Marian Leng worked in her parents store in China City.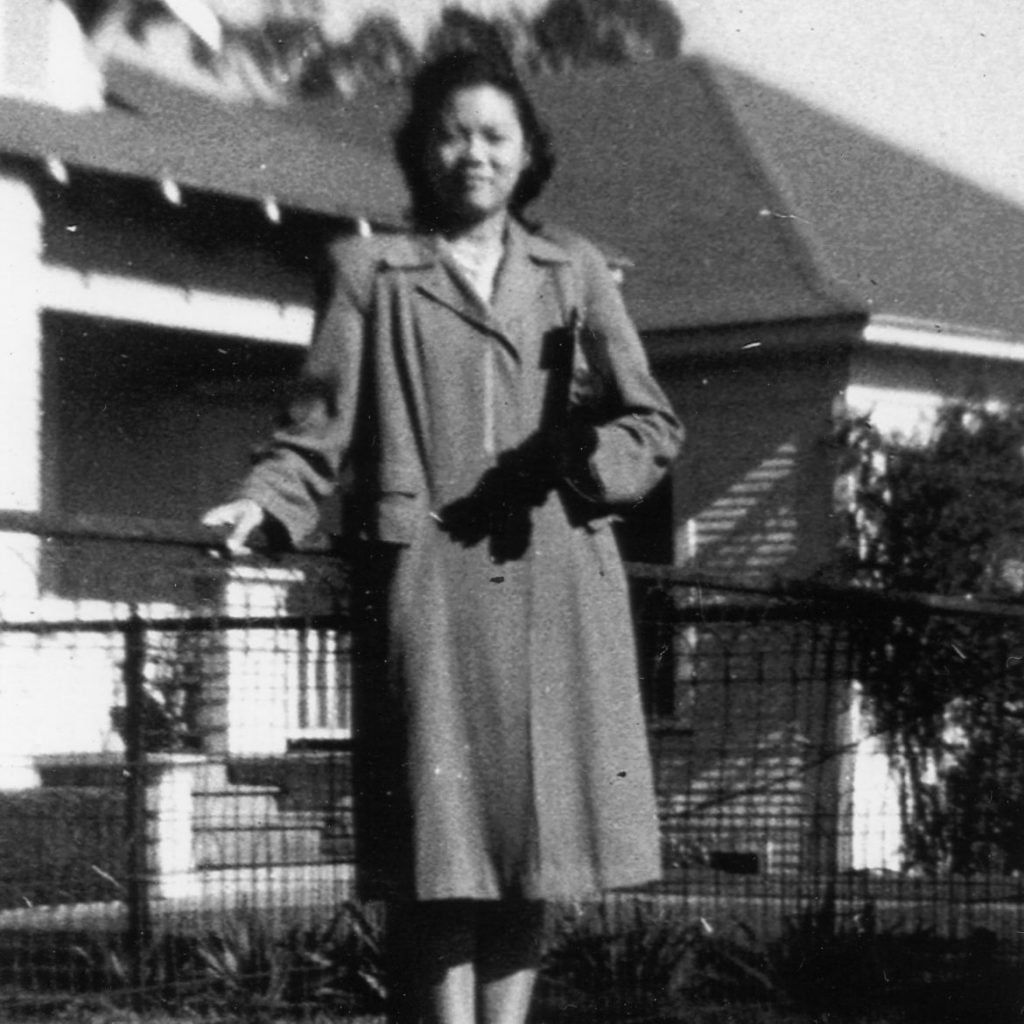 Written by Heidi Li
Marian Leng was born in Portland, Oregon on February 24, 1927. She was named after the movie star, Marion Davies, who was her mother's favorite comedian at that time. Marian is the only child and both of her parents were also born in Portland, Oregon. Her parental grandfather came to the United States from China in the 1840s to work on the railroad. He later met her grandmother in San Francisco and moved to Portland. Marian's maternal grandfather was a merchant and opened a coffee shop in Portland. Marian's parents had an appliance store in Portland, right in the middle of Chinatown across the street from the Chinese Benevolent Center. It was the center store in Portland Chinatown, and people would stop by when they were running errands or waiting for others.
In 1938, Marian's parents received a letter from an uncle that was living in Los Angeles, telling them about China City when it was first opened. In 1939, Marian moved with her parents from Portland to Los Angeles after China City was rebuilt from a fire. They lived in East Los Angeles at the time, where Marian attended Theodore Roosevelt High School. Her parents opened a coffee shop, a gift shop, and a restaurant in China City. Being the only child, Marian always worked at her parents' businesses on the weekends. Nonetheless, she made friends with peers who grew up in China City, whose parents also owned businesses in China City.
During World War II, Marian worked as a volunteer for a few hours on the weekends at the Chinese Canteen serving service men from all over the United States. The Chinese Canteen was started by Dorothy Soo, who also organized the volunteers from the canteen to escort a group of Chinese officers that were sent by Chiang Kai-shek to the United States from China. In 1943, the volunteers accompanied the officers for a one-day excursion around Los Angeles, during which Marian met Christopher Leng, the man who would become her husband. On the Christmas Day of 1944, Marian married Christopher. Approximately four months later in 1945, Christopher was sent back to China right before World War II ended, and was given orders to fight the Communists after the war. Marian went back to China in 1946, where she had her first child. To her, China was exciting. "It was like another world," she says, "I was young, very young. I was 19 years old. And for me, I had a grant time! … We would meet friends and eat all the dim sum and do dancing. It was exciting time for me."
 However, in February 1947, Marian found out that her mother had cancer. By the time she got back to the United States with her three-month old baby, her mother had already passed away. Christopher, Marian's husband, came back later around 1948 to help her father with the businesses. Then in 1949, a terrible fire burned down everything in China City. After that, Marian and her family kept their gift shop in North Hollywood for about 15 years. "You know, things change every 10 – 15 years in your life," she says, "It doesn't matter what you're doing. But it just changes. Things around you change and you have to change with it. You just have to bounce with it. That's the only way I can say for people to continue, to live."
It was only one block. It was one block. from Spring, on the… on west side, Spring Street, and Main on the East side, and North side would be Ord, and South side was Macy Street. That was the perimeter of China City. And then they had like built the Great Wall of China surrounding part of it. It was very, very different. People would come and have a good time. It was free, didn't cost anything. They would come in the restaurants to eat and the gift shops to buys things. It was a very bustling place. And then to make it more exciting, they would have contests of photographers. They would sponsor these programs where you take a picture; you might win a $100 prize if it was a good pic… photograph, you know. So, a lot of PR. And of course we celebrated the Chinese New Year, usually January or February. Then we had summertime activities, and then August for Moon Festival. That's very exciting time, too. They would have dragon dance and lion dance… oh boy. It was just really exciting. Yeah, and a lot of business.