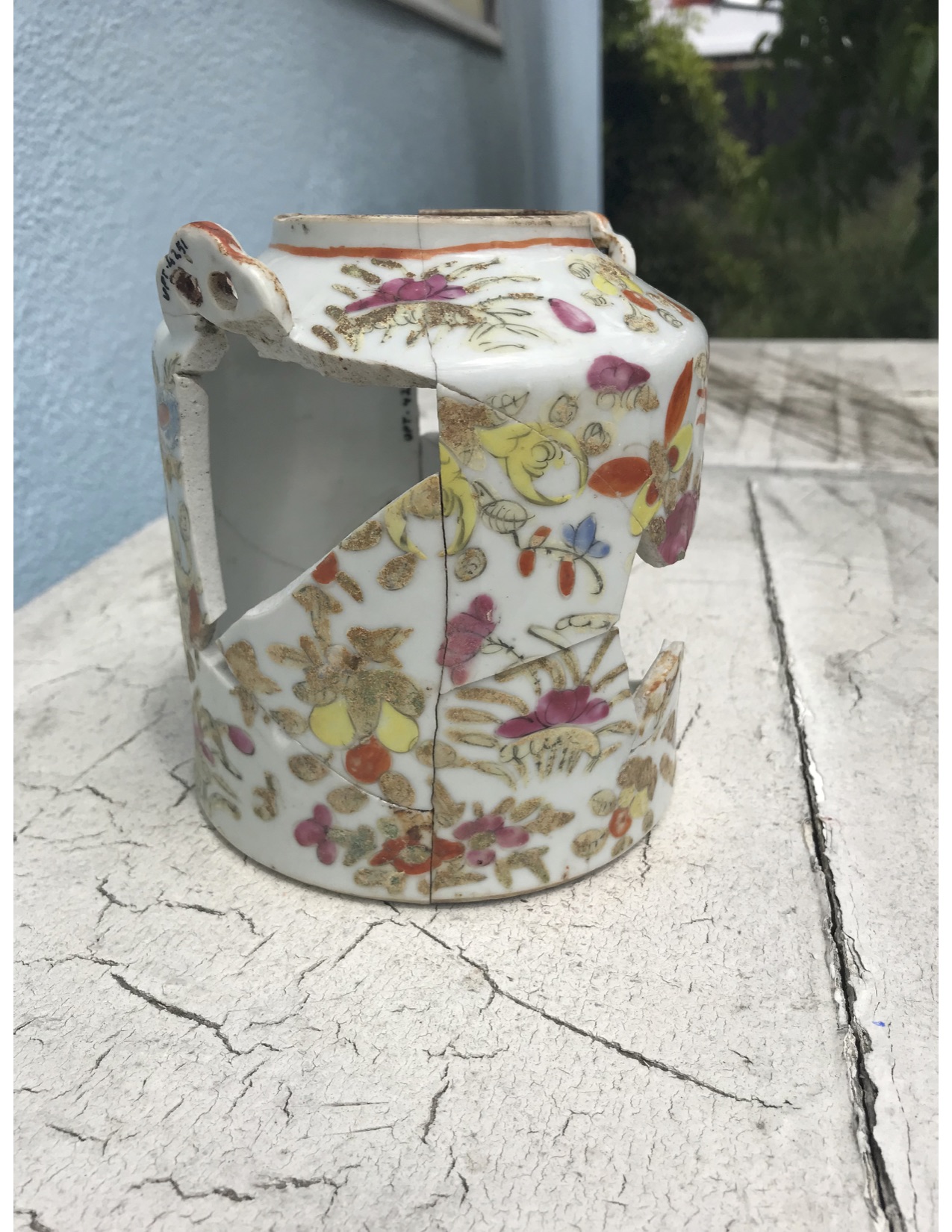 Displayed here is a common, mass-produced, teapot imported from China during the late 1800s and early 1900s. Used for tea preparation and table service the vessel features polychrome designs painted in enamel over the glaze. The artwork includes flowers, fruits, a pheasant, and Buddha Hand. The Buddha Hand is represented by a bright yellow citron with long segments growing out of the stem. This design resembles the Buddha in meditation.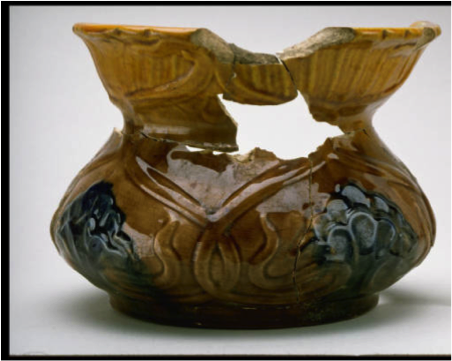 Spitoon.; Excavated from ESC #10; feature 40, Union Station area, Los Angeles, CA, 1989-1991.
A map of old and new Chinatown and the Union Station area shows the vicinity where artifacts were recovered during excavations in October/November 1989 and February/March 1991, during the construction of the Metro-Rail Red Line by the Los Angeles County Metropolitan Transportation Authority (MTA). Bounded by: Pasadena Avenue (top), San Pedro Street (bottom), Pasadena Freeway (left), Golden State Freeway (right).
As an historical archaeologist I greatly enjoyed it. It has new and absorbing material which is of fundamental importance for the study of the Chinese and other poorly documented minorities. It is certainly the best volume on a Chinese American there is… a first-rate piece of historical archaeology for which Roberta Greenwood needs to be congratulated.

-Merrick Posnansky Professor Emeritus, UCLA

Departments of History and Anthropology
In 1933, to construct Los Angeles' now famous Union Station, a thriving Chinese community of about 3,000 people that dated back to the 1880s was displaced. Brick and wooden buildings were razed and fill dirt was used to support the train center and level the tracks. The remains of Old Chinatown were sealed 14 feet below the railroad tracks.
In 1987, workers building L.A.'s Metro Rail discovered the long entombed Chinatown. Archaeologists were brought in to preserve and protect the cultural resource. The excavations uncovered unprecedented numbers and densities of artifacts, illuminating aspects of lifeways not previously recorded..
View more than 1,000 objects from the excavations. These include figurines, jars, bowls, ivory toothbrushes, teapots, jewelry, toys, imported and domestic glass containers, cooking vessels and ceramic items.
Digital archiving made possible by the John Randolph Haynes and Dora Haynes Foundation
Special thanks: Randall Bloch, Crista Burch, Eugene Cooper, Margaret Hom.
Down By the Station: LA Chinatown 1880-1933