Outreach: Sharing the Community's History


The CHSSC has actively promoted community history through an ongoing Walking Tour Program of Chinatown beginning in 1981. Thousands of people have taken our educational tours, guided by well-trained docents. Our Portraits of Pride project is an oral history and publication effort initiated to record the experiences of Chinese Americans who have distinguished themselves in the health, science, engineering, and architectural fields. We helped initiate the planning and fundraising for the Chinese American Museum at the El Pueblo de Los Angeles Historic Monument. The CHSSC has developed or co-sponsored exhibits such as: the James Wong Howe exhibit documenting the life and art of a noted Chinese American cinematographer; an exhibit on the 1882 Chinese Exclusion Act for the opening event of the Chinese American Council of the Bowers Museum in Orange County; the Chinese Women of America exhibit at California State University, Los Angeles; the One Day, One Dollar exhibit at the LA Department of Water and Power; and contributed to major exhibitions organized by the Getty Museum and by the Autry Museum of Western Heritage. We helped organize the 50th Anniversary Celebration of New Chinatown, honoring its founders, and in 2004 we sponsored a California Council for the Humanities grant for a video documentary, Revisiting East Adams.
Meeting, Programs and Conferences


Since 1976, the CHSSC has been offering free, public, monthly meetings with speakers and programs related to Chinese American and community history. Some of our own members are actively involved in historical and community research and have created enlightening and stimulating programs. In 1992, the CHSSC organized a National Chinese American Studies Conference at California State University, Los Angeles that involved speakers and scholars from all across the United States. More recently, we co-sponsored the Sixth Chinese American Conference held July 1999 in San Diego, CA. 
Preservation and Landmark Recognition
The CHSSC has always supported preservation and protection of our architectural heritage. We co-sponsored in 1976 the Lang Station historical marker in Santa Clarita, commemorating the site of the first railroad line, built by the Chinese, which connected San Francisco and Los Angeles on the 100th anniversary. We have supported preservation efforts in other communities such as the Chew Kee Store in Fiddletown in Gold Rush country, the Riverside Chinatown Historic Site, and the local Formosa Cafe in Hollywood. Between 1992 and 1995, we purchased and restored the 19th century Chinese Shrine in Evergreen Cemetery in Boyle Heights. In 1995, we purchased two Victorian-era houses in Los Angeles Chinatown, known as the Chinatown Heritage and Visitors Center, to serve as a cultural resource for those who wish to learn about the history of Chinatown and Los Angeles through ongoing exhibits, a media center, research library, and archives. These two houses are still undergoing preservation and restoration today.
CHSSC has worked to assure the dignified reburial of remains and artifacts identified as Chinese that were found as a result of excavation for the extension of the Los Angeles metro system. At this time historic Riverside Chinatown's archaeological site is being threatened by a planned commercial real estate development supported by the Riverside Council members. On February 24, 2009, a temporary restraining order was issued to halt further unauthorized disturbance of the land. CHSSC volunteers are working closely with Riverside's Save Our Chinatown Committee on a permanent injunction.
CHSSC has become the guardian of one of the largest collections of Chinese American archaeological artifacts in the country; our archives house material from Old Los Angeles Chinatown (located in present day Union Station), Santa Barbara Chinatown, and work camps in Donner Pass, Grass Valley, and Columbia (Calif.). Our Robert Nash Collection of photographs and documents related to the early Chinese fishing industry has been a valuable resource for researchers. Our collections are housed in an archives facility developed with assistance with a grant provided by the National Endowment of the Arts (NEA). Our Digital Archives Project was completed with a grant from the John Randolph and Dora Haynes Foundation; thousands of digital images are now available, via a link on our website, on a vast electronic archive managed by the University of Southern California.
Research and Publications
The CHSSC has encouraged research and publications on both an academic and general interest level. Published books, some in collaboration with the UCLA Asian American Studies Center, include: "Linking Our Lives: Chinese American Women of Los Angeles", written by a team of authors (1984); "Sweet Bamboo: A Saga of a Chinese American Family" by Louise Leung Larson (1989); "Origins and Destinations: 41 Essays on Chinese America" (1994) based on our 1992 national conference; "Duty & Honor: A Tribute to Chinese American World War II Veterans of Southern California" (1998); "Bridging the Centuries", a history of Chinese Americans in Southern California (2002); and "Portraits of Pride" (2004), containing profiles of 38 Chinese Americans of the "Greatest Generation" era. The Gum Saan Journal, published annually, provides articles and research papers in a keepsake-quality format. CHSSC members have written numerous articles for publications, such as the annual souvenir book published by the Chinese Chamber of Commerce. Our monthly newsletter, News 'n Notes, has been a reliable source of information about the CHSSC and community activities. Our website at www.chssc.org features our monthly program announcements, details on our many projects, information on obtaining our publications, archived copies of our newsletter, and membership information. The website also has links to a Chinese American history resource list, a detailed historical timeline, a Los Angeles Chinatown map, and many other resources. We've supported the work of authors in the field by sponsoring book parties. We completed an oral history project in 1979 in which 165 Chinatown community pioneers were interviewed and the original tapes currently reside at the UCLA's University Research Library. A new oral history project completed in 2008 was made possible in part by a grant from California Council for the Humanities. This project takes a look at life in Los Angeles Chinatown in the 1930s and 1940s. Several former Chinatown residents were interviewed by UCLA student interns and other student volunteers. The project resulted in a video, an exhibition, a website and publication in the Gum Saan Journal Special 2009 edition.
Outreach: Youth Education, Scholarships and Workshops

Over the years, volunteer members have provided numerous classroom presentations to schools and youth groups of all backgrounds. In 1979, we organized a Family History Workshop at UCLA, providing students and members with methods for researching one's family history. In recent years, the CHSSC has been sponsoring an annual scholarship to a college undergraduate and a graduate student who plan on further work in Chinese American studies. In 2007 and 2008, two eight-week session workshops were conducted at CHSSC on Chinese American Stories, led by two award-winning playwrights.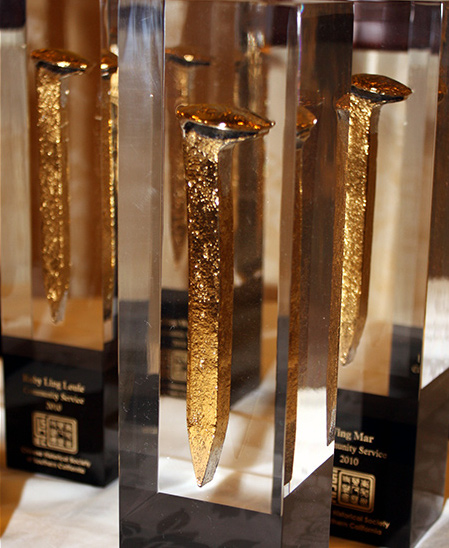 Regular Dinner Programs
The CHSSC hosts a festive banquet annually, which are eagerly anticipated community events, as the programs often include recognition of Chinese American pioneer individuals and of community organizations and institutions. These fundraising dinners have included speakers and entertainment.
Community Participation
The CHSSC has actively participated in many community activities. Our flag unit has been leading the parade in LA Chinatown every Chinese New Year since 1976, and has marched in the Alhambra Chinese New Year parade and the Bok Kai Festival in Marysville, California. The CHSSC co-sponsored the revival of the traditional Moon Festival. We have assisted with the Chinatown 10K Run, participated in the annual Lotus Festival, and the LA Conservancy's 25th Anniversary Celebration at Union Station.
Community Networking


The CHSSC has networked with other communities and organizations through field trips to historic Chinese American sites, ranging from California, to Mexico, to Hawaii, and most recently to the Golden Spike National Historic Site in Utah. Cross-cultural programs have involved the LA City Historical Society, the Centinela Valley Historical Society, and the Jewish Historical Society of Southern California. In addition, we have worked jointly on programs with other organizations, such as the Chinatown Merchants Association, the China Society of Southern California, Organization of Chinese American Women, Asian Pacific Women's Network, the Chinese American Citizens Alliance, the LA City Employees Asian American Association, the Monterey Park Heritage Commission, the Friends of the Chinese American Museum, the LA Chinese Women Juniors, the Friends of the Chinatown Library, and Castelar Elementary School.
As we look to the future, let's build on the contributions of those who came before us and work harder to preserve and share our cultural heritage!